The Valencia. - exterior view
See the plan view (click here). Price list (click here).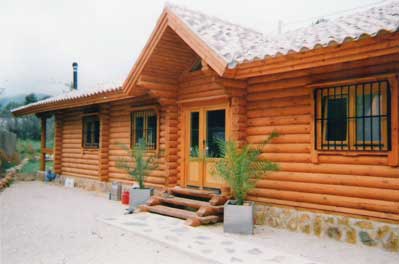 This lodge has the perfect blend of practicality and style, with its three bedrooms and two bathrooms, to its vaulted living room space and covered terrace which leads from the beautifully tripled glazed French doors.
At 98 sq metres, plus a veranda of 15.75 square metres, this is perfect for a holiday home or your very own home, big enough for 6 to 8 people as a holiday home or just spot on for a family of 4 to spread out as comfortable living space.
The vaulted ceiling of the Living room accentuates the size of this room, the detail of the triangle shaped window above the entrance door just adds that touch of class.
Best of all though its the atmosphere of being made by logs.
But there must be some negatives too...?
You will find that relatives will want to visit you more, that friends will want to stay and socialise for longer, strangers will appear at your door and ask to look around. Folks with land will want to know where you got it from and want to copy it.