Model Log250 - exterior views
To the plan view (click here). Price list (click here).
A bright and open plan building, with it huge 300 sq. ft of covered terrace and huge French doors from living room to the outside. A real beauty.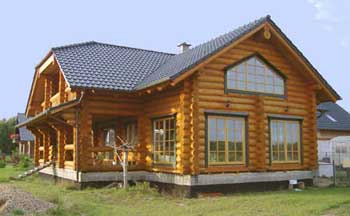 At 2600 sq. ft of flexible living space and 300 sq. Ft of covered terrace this is beautiful family home.
At £36 per foot for the kit and around £75 per foot finished cost, this is the most cost efficient home you will ever buy.