Machine made round section logs.


You can use the left hand menu or visit the log cabin list home page to see some more cabins in detail. Prices are on the price list page (click here) and you can request further specifications regarding other cabins by using our contact page and response form.
The house can be made of machine made logs of natural humidity (dia' of 170-200 mm) made by our firm in industrial conditions by the Swedish technology Timber Flexi.

Your house, sauna or garden house made in the machine made method will not only be highly efficient but will look superb. The antiseptic processes will give them longer life and as an optional extra we can have them treated with fire retarding compositions.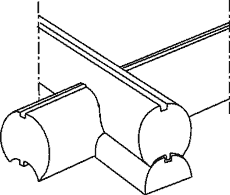 For details of the wall construction (click here)
Perfectly insulated and waterproofed
The Real Log Home will ensure its all year round use and the kit format will save thousands on build costs.


We can supply in various woods, fur, pine, larch.



We can have the house built from start to finish by our experts at hugely competitive prices.

Detailed specification of materials supplied with each kit.

Garden House specifications:



Wall Material as per model


Ground floor beams 50x200 mm natural humidity


First floor beams where applicable per project


All rafters' 50x200 mm as per project


Floor boarding, customer's choice per project


All windows as selected per project


All doors as selected per project


Wind boards for roof


Skirting as per project


Floor insulation if specified per project


Roof insulation if specified per project


Log Home Specifications:



Log Home Specifications:


Wall material – logs of between 170mm up to 200 mm Naturally dried and antiseptically treated.



Ground floor beams, 50x200 mm Naturally dried


First floor beams, 50x200 mm Natural humidity pine


Beams of ground and first floor overlap, planed on 3 sides, 150x150 mm, they can be used as load bearing or for decoration



Beams of ground and first floor, planed by 3 sides, 150x200 mm
as per project



First floor logs 50x100 mm used together with beams


Beams of garret, overlap 50x150 mm


Rafters 50x200 mm


Roof logs d=200 mm


Wooden bar over the rafters 50x50 mm


Underlay board 50x150 mm placed under first row of logs, antiseptic treated



Floor boards 22 mm


Floor boards 1, 2, 25 mm Pine grooved board dried to 8-12 %.
Pine cat. B



Garret floor board, 25 mm Cut board of natural humidity


Ceiling of ground and first floor Pine "euro"-board dried, cat. B


Posts for frame partition, 50x100 mm


Boards for frame partitions Pine "euro"-board dried at cat. B
Plinth



Board for cornice overhangs and balcony ceiling finishing, 20 mm planed with 10 mm clearance



Pediment and wind boards, 20 mm Planed


Terrace and balcony floor board, 35 mm Dried, planed, antiseptic. With 10 mm clearance


Outer barrier Balusters d=50 mm


Windows according to project According to project


Outer platband, with cap It is possible with fretted elements


Inner platband


Inner doors according to project Pine, varnished, glazed


Outer door Pine, varnished, decoration plank, lock not included


Balcony door Pine, varnished, triple glazed, accessories - chromed


Anti-shrinkage frame for windows and doors


Outer stairs 2-3 steps


Inner stairs Pine


Foundation hydro-isolation Rubberoid material


Wind-hydro-isolation under roofing ELKATEK SD


Vapour-isolation of first and ground overlapping Bitumen paper


Roof vapour-isolation ELKATEK 150S


Inter-row warming Flax strip between rows of log for insulation.


Roof warming,150 mm PAROC or ISOVER


Floor warming, ground floor - 200 mm, first floor - 100 mm ISOVER


Macroflex (foam)


Metal accessories Cramps, screws etc.


Wooden nails