Model Log360 - exterior views
To the plan view (click here). Price list (click here).
This has been designed for those of you looking at starting or expanding your own BB business With 7 bedrooms and 4 bath rooms allied to a large diner and kitchen facility area this will fit the profile just right. A bonus is the cost of construction of the kit . At nearly 4000 sq ft, BIG IS BEAUTIFUL!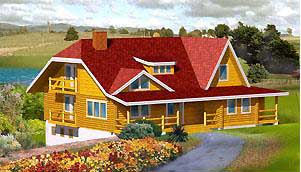 7 bedrooms
4000 sq ft of living space 4 bathrooms plus
225 sq ft of decking